---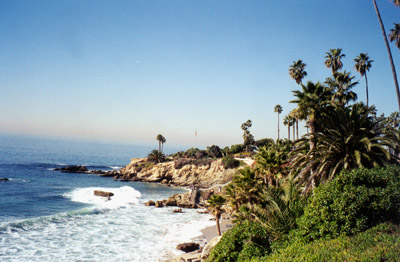 One of my favorite views from our trip, this is a shot of the coastline in Laguna Beach, a real-life tropical paradise. The beach is one of the prettiest in California, and the town itself is filled with quaint boutiques and great restaurants.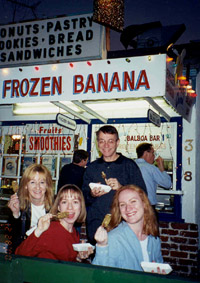 Here we are sampling one of the most scrumptious of culinary confections--frozen bananas from the "Original Dad's" sweet shop on Balboa Island. These were large, ripe bananas dipped in a thick layer of chocolate and coated with butter brickle. It doesn't get any better than that!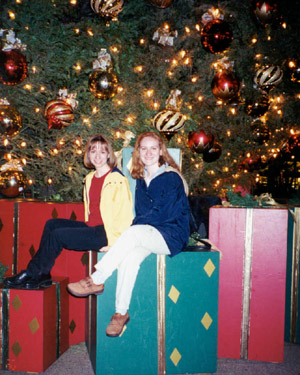 We spent a lovely evening at Fashion Island, an outdoor shopping center that is every shopper's heaven on earth. The centerpiece of one of the courtyards was this giant real Christmas tree, the largest in all of Orange County--and definitely the largest I'd ever seen! Here are Tara and I sitting atop the large packages that surrounded it.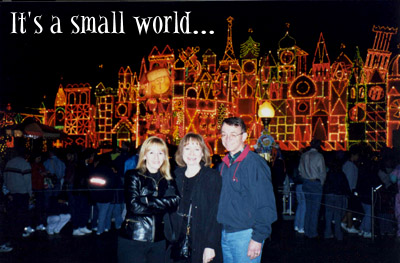 Of course, we had to spend a day at "the happiest place on earth"--Disneyland! I'd been there once before (when I was six), but this time was an unusual treat, since we went between Christmas and New Year's and were able to see the holiday decorations in all their glory. "It's a small world," the charming children's ride, was especially dressed up for the holidays; here's a shot of the outside, with Alex, Mom, and Dad standing in the foreground.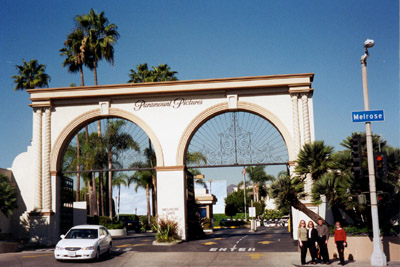 As an old-time movie fan, I had to see the lot where so many of the "classics" were filmed. Here we are in front of the famous Paramount frontgate, on Melrose Avenue in Hollywood.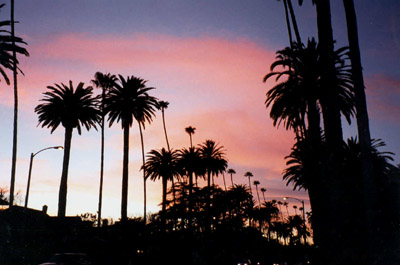 This just might be my favorite photo from the whole trip. A breathtaking shot of the palm-lined Beverly Drive, in Beverly Hills, during a gorgeous sunset. It truly looked like a painting!
During our stay in Tinseltown, U.S.A., we stopped at Mann's Chinese Theater on Hollywood Boulevard to see its famous collection of "star prints." Here I am next to the hand and footprints of one of my favorite leading men, Jimmy Stewart.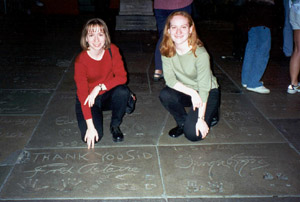 This is a shot of Tara and me next to the prints of our favorite duo of the silver screen, Fred Astaire and Ginger Rogers.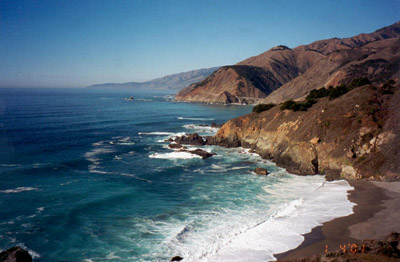 On our drive up to Carmel, we stopped briefly in Big Sur National Park and took this beautiful photo of the Pacific coastline. The sea was actually this blue--brilliant!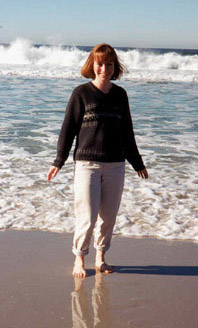 Here are different shots of Tara and me, enjoying some fun in the sun on the beach in Carmel. This was the cleanest, smoothest beach I'd ever seen--perfect for frollicking in the waves! :-) I could have stayed there all day.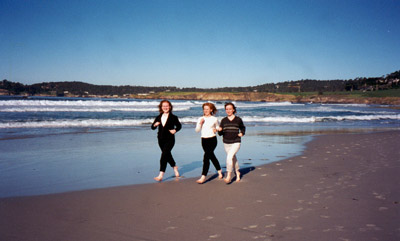 Our exuberance getting the better of us, Alex, Tara, and I had to take a fast sprint through the waves on this glorious beach. What an exhilarating rush!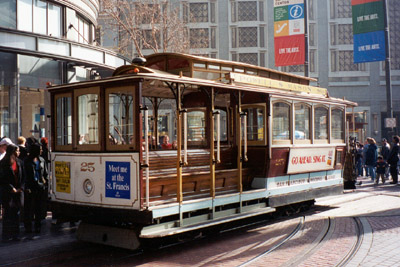 Up and on to San Francisco and the famed cable cars! We took a ride from the intersection at Powell and Mason streets (where this shot was taken) to Fisherman's Wharf.
A lovely view of the Golden Gate Bridge. It looks perfect enough to be a backdrop, doesn't it?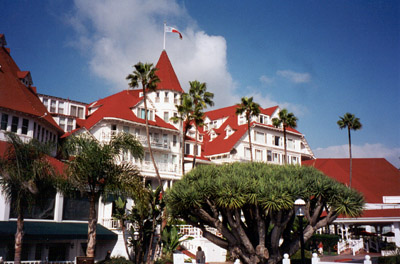 Finally, during our last two days in California, we drove down to San Diego and took a walk through Hotel del Coronado, this sprawling building with the bright red rooftops. It's right on the ocean, and the view is magnificent. The hotel was at the peak of its popularity during the 20's and 30's, but it remains a favorite retreat for the wealthy.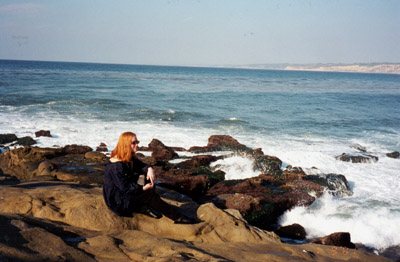 Not far from San Diego is the quaint coastal town of La Jolla, similar in style and ambience to Laguna Beach and with another beautiful coastline. Here I am amid the jagged rocks, looking seaward.
---
Back to the Gallery