---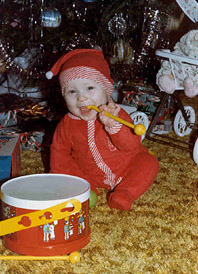 My musical premiere and first Christmas, December 25, 1982
Sisters and friends forever: this is one of my favorite photos of me and my "big sis," Tara, when she was three and I was six months old.
Two little pumpkins--Mom made these adorable Halloween costumes for us in October of 1983.
"Keep those (big) feet moving!" Here I am at age one, shaking it up to the tunes of "Hooked on Aerobics," my favorite TV exercise program. (The shoes are Mom's, by the way.)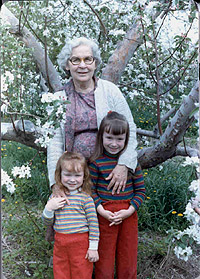 Here are Tara and I with "Granmo," our maternal grandmother, in front of one of Wauconda Orchards' beautifully blooming apple trees, in April 1985.
Me at my very first violin recital, at age four. I was terrified!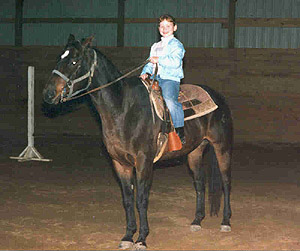 Here I am atop my favorite steed, J.W., at Tuckaway Farms, where I took my second set of riding lessons in 1989.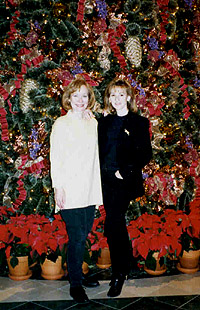 My mom and my aunt, Alex, in front of a stunningly decorated Christmas tree inside Northbrook Courts, a nearby shopping center, in November 1996.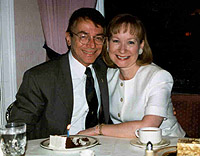 Aren't they cute? Mom and Dad at their 25th anniversary dinner in June of 1998.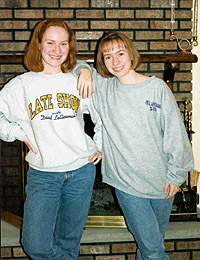 Another one of my favorite pics of me and Tara, this one taken in November 1998.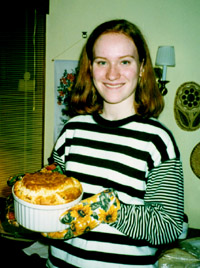 Here I am in 1999, proudly holding a successfully completed artichoke and black olive soufflé. (I love to cook but, sadly, don't have much of the time or patience it requires.)
Me as a high school graduate with diploma (June 1999).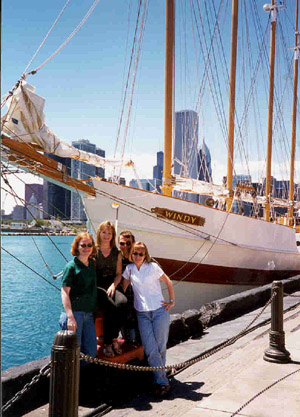 Me, my aunt Alex, Dad, and Tara standing next to Windy, an old-time sailing schooner docked on Chicago's Navy Pier. This afternoon in August of 1999 was perfect for sailing--warm and breezy.
Tara and I sitting in a bed of glorious fall color in Ryerson Woods Forest Preserve, October of 1999.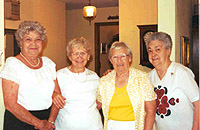 From left to right, my great-aunt Albena, my paternal grandmother (affectionately referred to as "Granny"), and two other great-aunts--Chris and Josie. This picture was taken in July 2000 at our house.
Me and Tara at one of our favorite summer hangouts, the Chicago Botanic Garden, in August of 2000.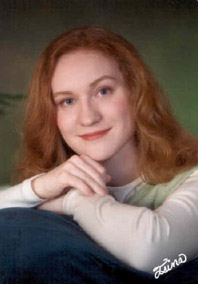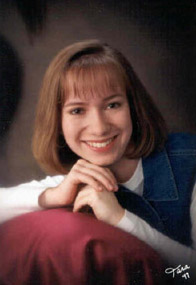 These are Tara's and my senior pictures, taken in 1997 and 2000, respectively. We had them done by the same photographer--hence, the similar pose. I love the colors in both of them.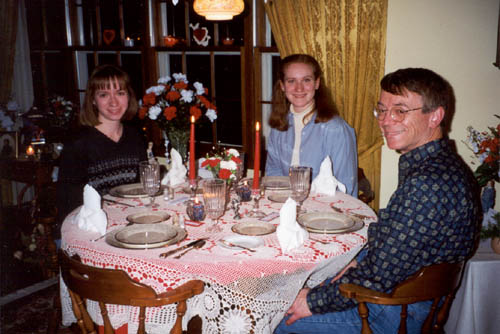 Wanting to add a bit of excitement to the dull winter days, Mom and I decided at the beginning of 2001 to begin a series of "themed meals." Choosing a different country for each of of the meals, we planned menus consisting of ethnic cuisines and decorated our dining room to match. The first of these meals was a French Valentine's Day dinner on February 15, 2001--quiche lorraine, ratatouille, and crepes filled with chocolate mousse and topped with hot fudge and whipped cream. I decorated our room in the colors of the French flag (red, white, and blue) and used flowers, lace, hearts, and candles with artistic abandon. La bonne vie!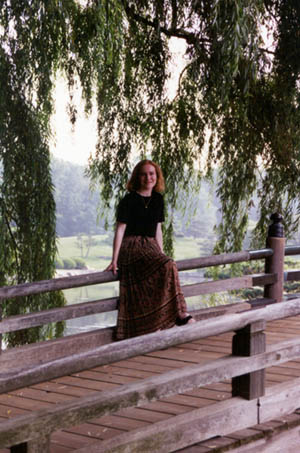 Here I am sitting on the bridge that leads to the Japanese Garden at the Chicago Botanic Garden. Taken in August of 2001, this photo can hardly capture the beauty and tranquility of that lovely setting.
This is an adorable picture of Mom and Dad, as they sipped a chocolate malt at Ferch's Ice Cream Parlor in August of 2001. Located in the town of Greendale, Wisconsin, this old-fashioned parlor serves up the best ice cream I've ever tasted--fortunately for my waistline, it's more than an hour away from our house!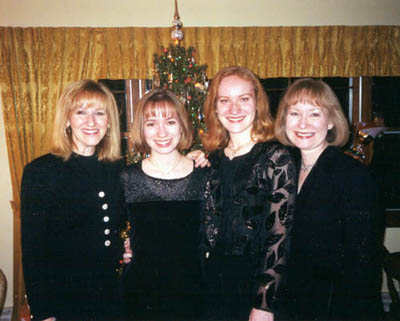 Before heading out for a holiday dinner in December of 2001, Alex, Tara, Mom, and I posed for this photo in front of our Christmas tree. I like to call us the "women in black." :-)
---
Back to the Gallery